Metal Cage Dog Muzzle with Leather Padding for Dog
Do you look for a dependable dog muzzle ideal for every weather? We offer you wire basket dog muzzle with leather interior. This Full Padded Dog Muzzle Prevents Skin Rubbing. Wearing this muzzle your pet will be allowed to public places, transport, etc. The gear is also practical for obedience training / off leash activities because it is indispensable thing during training of the kind. The equipment provides the best comfort for the pet.
Click on the pictures to see bigger image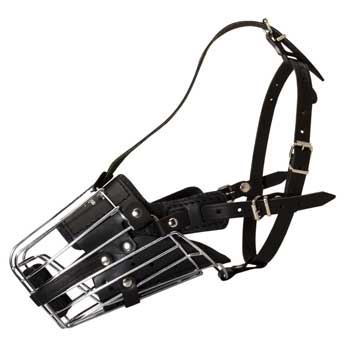 Basket Cage Wire Dog Muzzle Padded with Leather from Inside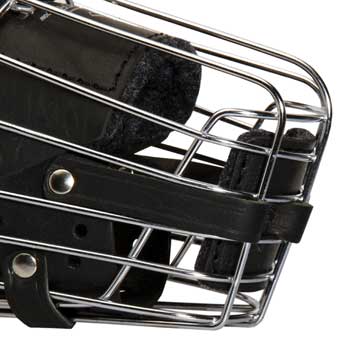 Training, Patrolling, Traveling Dog Muzzle for Dog
Key features of this Dog muzzle:

solid wire basket
pure leather
interior soft nose padding
quick-and-easy adjustable straps
ergonomic design
easy barking
free panting
stylish design

Intended use of this Dog muzzle:

seeing a vet
various kinds of training
everyday walking
socializing your dog
visiting friends
receiving guests

Sizes available:

Available colors:

black leather straps and padding
How to measure your Dog for good fit Basket Cage Muzzle:
Length: Distance from the tip of the nose to eye line in inches
Circumference: Around snout one inch below eye line in inches
Eye Line: Distance from eye line to the point right behind the ears
Neck Circumference: Circumference around neck behind ears in inches
Width: Snout width in the widest part
Height: Snout height , should be measured with mouth a little open
To see more precise instructions how to measure your Dog - Click here
You will purchase this muzzle if:


Due to special metallic durable construction the gear maintains its integrity. Note! The muzzle should be maintained properly, i.e. it shouldn't contact with water and when not used it should be kept in place with appropriate rate of humidity.
This dog muzzle is made of the safe and practical materials so it is free from toxicants and does not provokes allergies in the pet. Strong metallic basket won't rust for a long time, genuine soft leather will soften with the course of time. Neat stitches, solid rivets and buckles make this muzzle perfect.
This basket cage allows good air circulation so your dog will be able to pant and bark easily.
| | |
| --- | --- |
| Material | metal cage and leather straps |
| Color | black |
| Intended Use | pro training, obedience training, safe walking, vet visiting, socializing your dog |
| Dog Breeds Recommendations | medium dog breeds |
| Padding | felt |
| Adjustable Straps | yes |